A Persona Board deserves a Place at the Table
How many User (Buyer) Personas do you create? When introducing User (Buyer) Personas to an organization, I like to move away from trying to determine the "Ideal Client" type initially. What I like to do is post clients (with their personas) in the matrix below. For example, I use a matrix very similar to the one I outlined in the post, Lean Sales and Marketing Serenity Prayer to categorize customers for a given sales cycle. An overview of the post:
Engaged Customers with an effective Product/Service Match are a green light for closing or at a minimum staying with what you are doing.
Engaged Customers with an ineffective Product/Service Match either give back to product/development or bring a product specialist to customize product/service.
Disengaged Customers with an effective Product/Service Match tell me that current sales and marketing efforts are sub-par or that this group needs to receive the message in a different way. Give it back to marketing and tell them to go to work.
Disengaged Customers with an in effective Product/Service Match are not a lost cause depending on the size of the population. You may not want to spend a great deal of resources here, but it is worth investigating.
I will place Customer or their User Persona within this matrix. The definitions are practically the same but focusing on the wording we would develop while creating the User (Buyer) Personas. For Example:
Engaged Customers with an effective Product/Service Match are the ideal clients in our target market.
Engaged Customers with an ineffective Product/Service Match are customers that are highly relational and may use other factors than a superior product to make their decision. They may be driven by customer support, distributor relations, other products or just simply a family member.
Disengaged Customers with an effective Product/Service Match may be driven by price, availability, or their own limitations.
Disengaged Customers with an ineffective Product/Service Match are the ones that I use to highlight the need for an Anti-User (Buyer) Persona.
If we place real customers within the matrix, we will find that the personas are easier to create.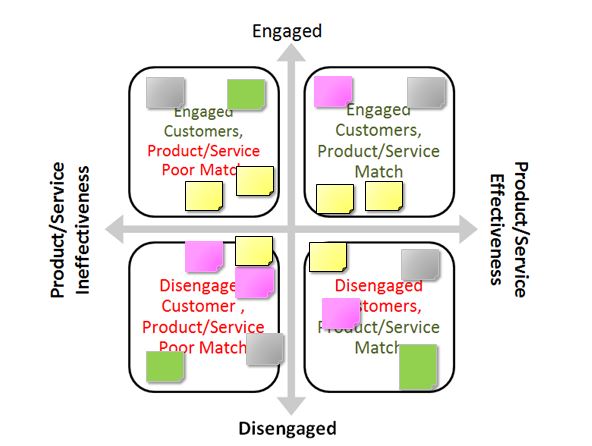 You can move the customers, depicted with sticky notes, to different positions in the block so that you can see where they populate. Place advocates/detractors to the extreme edges in the blocks and put them in order towards the center; referrers, repeat buyers and one-time buyers closest to the center.
You can use many different customer scenarios such as locations, product mix, sales assignments, and tenure to determine other visual indicators to assist in understanding your personas. This can be done with different color post-it-notes or just stickers after they have been grouped by the main criteria.
You will not create great personas at the start; personas take practice. However, personas should be an active tool to manage your sales and marketing process. They are means to create conversation, hypothesis and experiments. I cannot think of a better way to bring the customer into your internal operations than through the use of personas. Jeff Bezos of Amazon Fame keeps an empty seat at the table to signify the customer. Why not try holding your next sales and marketing meeting with a persona board at the head of the table?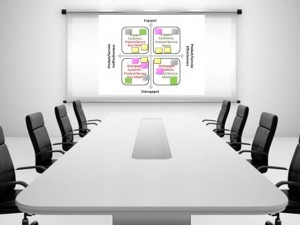 Joseph Dager
Business901 is a firm specializing in bringing the continuous improvement process to the sales and marketing arena. He has authored the books the Lean Marketing House, Marketing with A3 and Marketing with PDCA. The Business901 Blog and Podcast includes many leading edge thinkers and has been featured numerous times for its contributions to the Bloomberg's Business Week Exchange.
MarketPlace
Global Customer Experience Management (CEM) Certification Program
[April 3-4, Dubai; April 8-9, Frankfurt; May 21-22, Los Angeles] An internationally recognized program with proven track record of success - being run for 41 times in 17 cities with attendees from 58 countries. The program is developed based on the U.S. patent-pending Branded CEM Method which aims to drive customer loyalty and brand differentiation with quantifiable business results. Book early to enjoy USD300 discount.